Seasoned vegetarians know that, despite what the omnivorous may believe, getting enough protein without eating animal products is no problem.
And whether or not you're vegetarian, it can always be fun to mix up your meal rotation while focusing on hearty, plant-based protein that delights your tastebuds — without taking up too much of your precious time.
Allow these 30 vegetarian one-pot and one-pan wonders to do the trick. They're a breeze to put together and every serving packs in at least 10 grams of protein.
Are You Getting Enough Protein?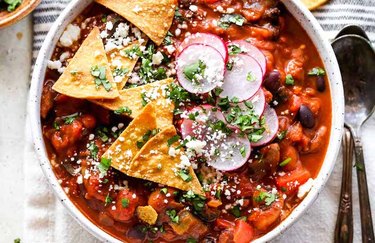 When you combine black and pinto beans in this creative chili recipe, the result is a dish that's super-creamy, hearty and, of course, protein-filled. You can't go wrong with a vegetarian cheese quesadilla on the side to dip into this lovely bowl of goodness.
2. Wild Mushroom and Baby Spinach Egg Skillet Recipe
When you wake up feeling ravenous, this 10-minute meal will feed and fill you quickly. And there's no reason not to include this recipe in your dinner rotation.
3. Instant Cajun Red Bean and Vermicelli Soup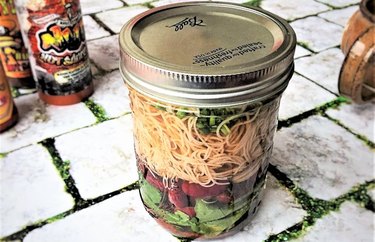 This delicious soup boasts nutritional benefits and a high protein content, and this recipe is a great pick for lunch on the go. Layer all of the ingredients in a mason jar and heat it all up when you're ready to eat.
4. One-Pot Pasta Con Broccoli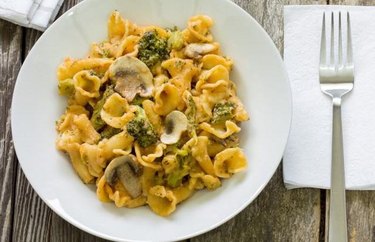 Another pasta dish that brings in flavor, variety, great textures and nutrients. Broccoli is a great way to get your fiber, so bring on the little trees.
5. Instant Pot Cauliflower Soup With White Beans and Lemon
What could be better for easy meal prep than the Instant Pot? This protein-packed and delicious recipe takes less than 20 minutes to cook and will keep you satisfied for hours.
6. Instant Pot Mac and Cheese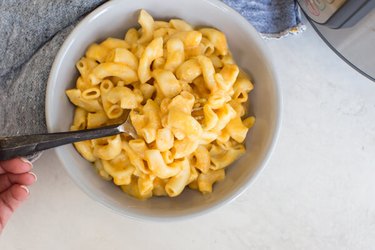 This mac and cheese recipe offers a surprising amount of protein — 21 grams per serving. Feel free to sneak in extra veggies in this family-friendly dish by pureeing pumpkin, butternut squash or cauliflower.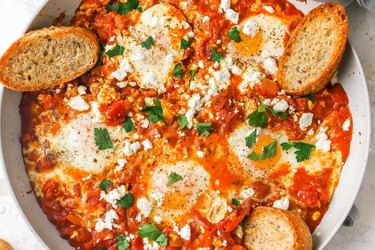 Create a beautiful and nutritious brunch at home with this fun shakshuka recipe that is sure to impress your guests — and their appetites. The curry powder gives this Maghrebi dish an unexpected (yet delicious) flavor and you'll feel satisfied all afternoon.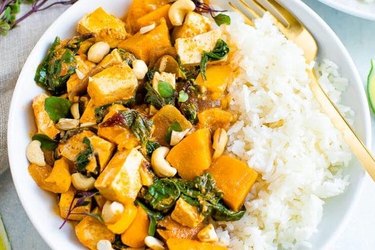 When it comes to high-quality plant-based protein, tofu is a staple. This vegan pumpkin curry recipe provides a tasty and simple way to get all the great benefits from soybeans.
9. One Pot Southwest Pasta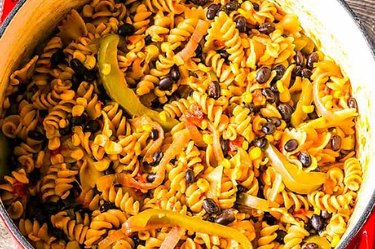 This easy pasta dish brings the heat thanks to a can of Rotel (tomatoes and green chiles) and taco seasoning. It comes together in a flash and makes for a great lunch tomorrow.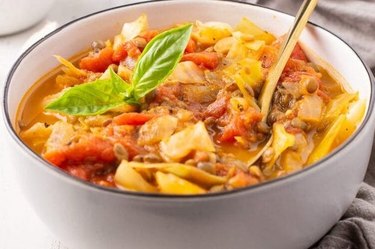 Cabbage and lentil work together to create a satisfying soup, packed with fiber and plenty of vitamins and nutrients. Feel free to swap in chickpea miso if you'd like!
Kale is a true superstar: It's packed with vitamins and protein and it can be prepared in endless ways. We like this lentil stew that'll keep both you and your wallet happy. The recipe developer at Eating Bird Food estimates that this dish comes out to $3 per serving.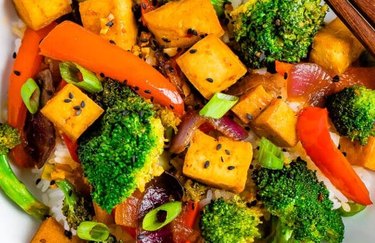 Sometimes you want to get creative in your culinary pursuits. Other times, you just want something quick and dependable. For when you need to whip up a dish without much fuss, try this protein-packed stir-fry. You can also round out your meal by adding rice of your choice, be it white, brown or cauliflower.
13. Slow Cooker Minestrone Soup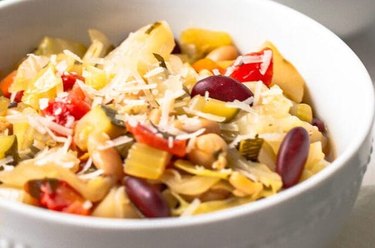 When you're strapped for time, this soup is the recipe for you. The minestrone is a total set-it-and-forget-it type of meal — plop all of the ingredients into a slow cooker and let it all simmer for at least four hours.
14. Butternut Squash Sheet Pan Meal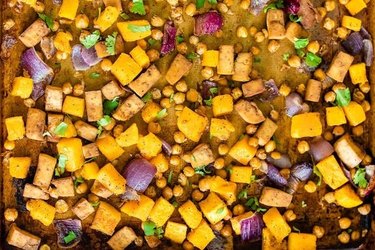 Creamy and filling, butternut squash has a delicious texture and tons of nutritional benefits, including fiber, protein and beyond. Feel free to do a little prepping ahead of time by pre-chopping your veggies. This fun recipe calls for a tahini sauce that adds a unique flavor to traditional roasted vegetables. Plus, only one pan to clean sounds great to us.
15. Slow Cooker Sweet and Sour Tempeh
Because tempeh comes pre-cooked, all you have to do is chop it up and throw it in the slow cooker. With peas, veggies and a tangy sauce, you'll want to add this vegetarian one-pot meal to your weekly rotation.
16. Butternut Squash Red Lentil Stew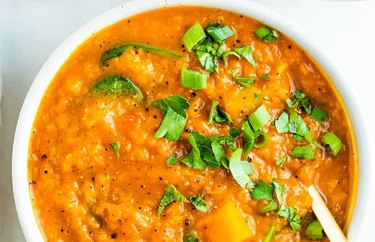 Slow cooker, Instant Pot or the stovetop? The choice is yours when it comes to this easy lentil and butternut squash stew. This one-pot wonder is brimming with fiber, vitamins, minerals and lots of protein.
17. Slow Cooker Cheesy Mexican Quinoa Casserole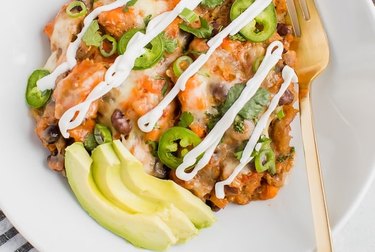 Craving Mexican? Try this protein-packed casserole that boasts all of the creamy textures and scintillating flavors that you love. This one's a versatile recipe, ideal breakfast, lunch, brunch and dinner. Whenever you decide to eat it, you'll be satiated thanks to the hefty amount of protein. This dish also happens to be gluten-free (way to go, quinoa!).
18. One Pot Vegan Mushroom Stroganoff
Stroganoff is traditionally a meat-heavy dish, but this vegetarian alternative is just as delicious. Thanks to the mushroom, this stroganoff maintains just the right texture, and you can even amplify the protein by adding in tofu or chickpeas.
19. Easy Vegetarian Chili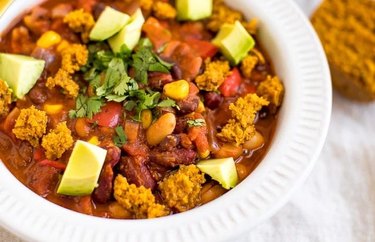 Who says vegans and vegetarians can't enjoy the comforting flavor of chili? This bean-based recipe provides both the fiber and the protein you need for a balanced meal, and some delightfully unexpected ingredients, like peanut butter and cocoa powder, help create a robust, rich taste.
20. White Bean and Lemon Soup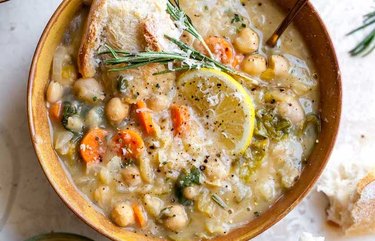 Beans can sometimes feel a little heavy, but the combination of white beans and lemon makes for a light and bright masterpiece. This fiber-filled soup just hits the spot. Vegans can make it dairy-free by swapping out parmesan for nutritional yeast.
21. Spinach Artichoke Skillet Enchiladas
If your jam-packed calendar leaves little room for preparing a new dinner every night, well, you're going to want to make these enchiladas. Prep this dish on Sunday, and then pop it in the oven when you're readying to eat it during the week. This recipe is filled with protein and other good stuff, including spinach and artichoke, which offer iron, minerals and vitamins.
22. Moroccan Split Pea Soup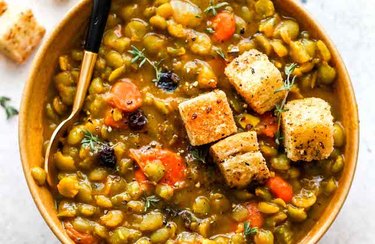 While you might not be able to jet-set off to Marrakesh right now, you ​can​ bring some of the flavors to your dining room table with this inspired split pea soup. The combo of turmeric, garam masala and smoked paprika give this Moroccan soup flavor and loads of nutritional value.
23. Tuscan Tortellini and Tomato Soup
The tomato and the beans add a nutritional punch to this classic Italian soup, and it all takes just 30 minutes to make. Might we suggest serving it alongside some warm, crusty bread?
24. White Bean Enchilada Soup
Here's a healthy way to enjoy those beloved enchiladas: The recipe creator recommends fresh cilantro, jalapeño for heat, a squeeze of lime juice for acidity and tortilla chips for crunch.
Lasagna is a staple in many households for good reason: It's filling and delicious. For a veggie version of this lasagna soup, you'll swap ground beef for white beans and mushroom, which will add great texture and all the protein one could hope for. To make it vegan, simply replace it with plant-based dairy alternatives.
26. Sweet Potato Noodles With Tofu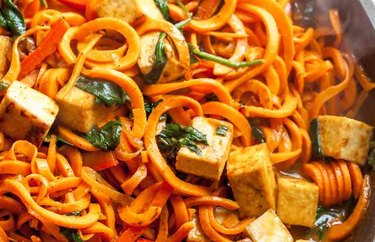 Lemongrass, red curry paste and tons of umami will satisfy your cravings for the wonderful flavors of Thai cooking. The sweet potato noodles help round out this meal and will help you avoid the lethargy that tends to come from overdoing it on standard starchy noodles.
27. One-Pan Wild Rice and Cheesy Broccoli Casserole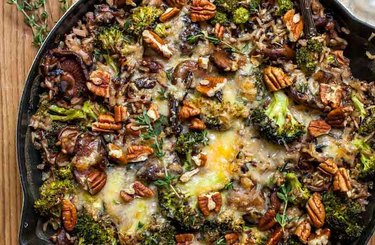 For those days when you need the gooey, healing properties of cheese, this casserole will hit the spot. While, yes, it's a bit more indulgent than other one-pot recipes, it could be a big win for keto fans if you skip the rice. You can also add in other vegetables to bump the nutrients.
28. One-Pot Moroccan Quinoa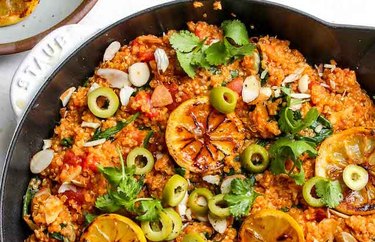 The best part about this dish is that it's totally customizable. Want some tofu? Add it in. How about veggie sausage? That works, too. Love some veggies more than others? Choose your favorites. You'll top it all off with caramelized lemons to bring out their sweetness and add complexity to the dish. Yum!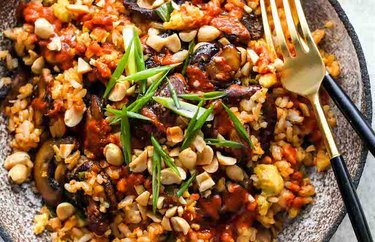 Side dish or main event, this mushroom fried rice is an excellent go-to for vegetarians. Add as many eggs as you'd like for protein and a pinch of sugar for more flavor and a slight caramelization.
30. Instant Pot Risotto With Dried Mushrooms, Asparagus, Peas and Spring Onions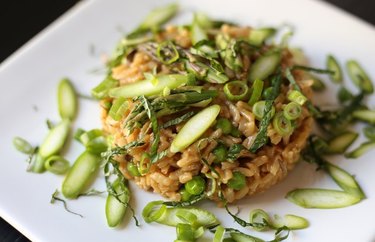 Technically speaking, this recipe has one meat component, but you can make it vegetarian by swapping chicken broth for veggie broth or water. We love the fact that this recipe calls for just two minutes of stirring — a luxury when you consider risotto typically requires constant babysitting.
Click below to pin and save these recipes for later!