EURUSD made a 4-month low around 1.1703 Wednesday (31st March) on broad strength of US dollar amid reflation narrative, COVID resurgence, and slow progress of mass-vaccinations in the Eurozone. Apart from the reflation story, supply of a deluge of US debt, US bond yield was also boosted by Fed's refusal to extend SLR exemption extension and FY21 (Mar'21) ending bond portfolio rebalancing (selling of USTs) by Japanese investors. The market is now expecting a huge demand for USTs from foreign investors led by Japan due to favorable FX hedge risk and Japanese financial year-ending fund rebalancing factor.
On Thursday (1st April), US10Y bond yield plunged almost -4.04%, stumbled from the day high +1.753% to +1.672%; the recent high was +1.776%. Subsequently, the US dollar slips and EUR, GBP got a boost against the greenback. EURUSD recovered from the session low around 1.1712, jumped almost +0.40%, closed around 1.1775.
The market is now concerned whether the EU will be able to complete its COVID vaccinations by Dec'21 or even Mar'22 amid various controversies over COVID mass-vaccinations process starting from availability, distribution to adverse side effects. On the other side of the Atlantic, the U.S. is progressing on the COVID vaccinations front fairly well with the help of sufficient supplies of mRNA vaccines, relatively more effective and safe than the Oxford-Astra vector (adenovirus) vaccine, the EU is using mostly.
Overall, EURUSD slumped almost -2.87% in March; EUR was also under stress on broader strength of US dollar amid higher bond yield and reflation optimism as a result of a deluge of COVID fiscal stimulus (around $10T), almost 48% of U.S. nominal GDP (2020) if we consider Biden's $2.25T infra stimulus and another high probable $2T social safety net in the coming days.
In contrast, EU member states are still fighting over €750B EU common recovery funds consisting of loans and grants. The total common EU budget for COVID stimulus is around €1.82T, much lower than the U.S. Also, with comparatively lower bond yield (coupon rate) in the EU and growing political rhetorics with China, there is some concern, who will eventually fund this fiscal stimulus to rebuild Europe. In brief, inequalities among various EU member states, lack of a common fiscal authority despite common central banks and currency is threatening Eurozone COVID recovery. EU austerity policy and lack of political will for vital structural reform are also preventing the economic recovery.
EUR is also under stress as the ECB said during its March monetary policy meeting that it would conduct pandemic bond purchases at a significantly higher pace over the next quarter, aiming to bring government bond yields down and to support the Eurozone economic recovery. And data shows that ECB purchased almost €28B bonds in the 2nd week of March, just after the ECB meeting, which is around 48% higher from the previous week and the biggest weekly amount till 1st week of Dec'20. ECB is virtually doing backdoor YCC by targeting PEPP/QE bond-buying, especially from peripheral zones (member states) to keep bond yield (borrowing cost) down as much as possible.
Lower bond yield, higher QE amount, and lingering suspense over common fiscal stimulus among various member states are affecting the currency (EUR). But ECB/Lagarde is not concerned as weak EUR is eventually good for the export-heavy Eurozone economy. EUR was also affected by the recent Turkish currency (Lira) and Central Bank crisis as many European banks & financials are closely integrated with the Turkish financial system.
Overall, the EU, a block of around $15.59T economy (2019), is just above China's $14.34T and way below US' $21.43T nominal GDP. After 2020 COVID disruption, EU GDP is set to contract around -6.30%, US -3.48%, while China is the only major economy set to grow by around +1.88%; EU contracted most. At this rate, China may overtake the EU by 2021-22.
The export-heavy Eurozone economy was already under slower economic growth around +1.3% on an average (y/y) since H2-2018, primarily due to the Trump trade war (U.S.-China/EU) and Brexit uncertainty. Now as both trade war as-well-as Brexit uncertainty is over (under Biden admin and Brexit deal), the Eurozone economy should grow by around +2.5% (pre-COVID levels) on an average after COVID; i.e. from mid-2022 or 2023 onwards. Trade deals with China, some other countries and expected fiscal/infra/green stimulus (NGEU) should help.
Subsequently, EURUSD jumped almost +4.80% in Nov-Dec'20, making a high around 1.2350. But soon came under stress and lost -4.01% in Q1-2021 (Jan-Mar) on ECB's backdoor YCC policy, the resurgence of COVID, lockdown 3.0, and slow progress of COVID vaccinations. The EU now needs to fix its COVID vaccination process and smoothly complete the same by Dec'21-Mar'22 for an accelerated economic recovery.
ECB Monetary policy decisions: 11 March 2021
The Governing Council took the following decisions:
First, the Governing Council will continue to conduct net asset purchases under the pandemic emergency purchase programme (PEPP) with a total envelope of €1,850 billion until at least the end of March 2022 and, in any case, until it judges that the coronavirus crisis phase is over. Based on a joint assessment of financing conditions and the inflation outlook, the Governing Council expects purchases under the PEPP over the next quarter to be conducted at a significantly higher pace than during the first months of this year.
The Governing Council will purchase flexibly according to market conditions and with a view to preventing a tightening of financing conditions that is inconsistent with countering the downward impact of the pandemic on the projected path of inflation—–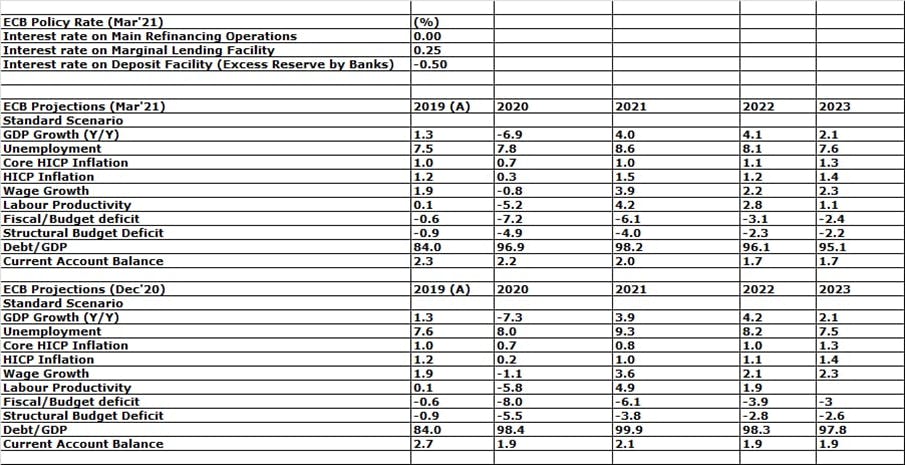 On Thursday, EUR was also supported by higher manufacturing PMI and inflation:
On Thursday (1st Apr), Markit data shows that the Eurozone Manufacturing PMI was revised slightly higher to 62.5 in Mar, from a flash estimate of 62.4, well above Feb' 57.9; i.e. the manufacturing PMI was expanded by 62.5% sequentially (m/m), the highest in 24-years. This is indicating the extremely strong performance of the manufacturing sector amid improving operating conditions and progress of COVID vaccinations (herd immunity & public confidence).
Output and new orders increased at record rates, helped by the fastest increase in export orders. Also, purchasing activity posted the sharpest expansion ever and the pace of job creation was the strongest since August 2018. But COVID-related supply chain disruptions (raw material shortages), logistical issues continued in Mar, while price/inflationary pressure intensified, but business confidence was upbeat.    
Average lead times for the delivery of inputs lengthened at an unprecedented rate as challenges in sourcing inputs due to product shortages, stronger global demand and ongoing logistical challenges linked to COVID-19 continued in March. Finally, inflationary pressures mounted, while business confidence held at an all-time high.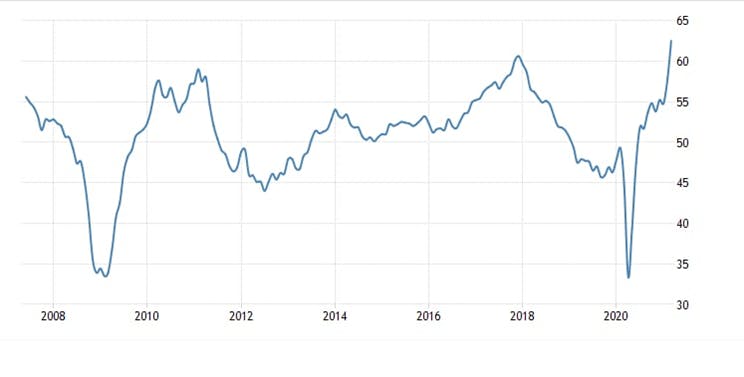 Markit said the blockbuster Eurozone manufacturing PMI in Mar was led by not only Germany but also various other Eurozone countries amid rising domestic as-well-as external demand. Although there is pricing pressure, this may be temporary and firms are in the process to expand their capacities as demand is outstripping supplies.
"Eurozone manufacturing is booming, with production and order books growing at rates unprecedented in nearly 24 years of PMI survey history during March. Although centered on Germany, which saw a particularly strong record expansion during the month, the improving trend is broad-based across the region as factories benefit from rising domestic demand and resurgent export growth. Driving the upturn has been a marked improvement in business confidence in recent months, with expectations of growth in the year ahead running at record highs in February and March. This has not only boosted spending but has also led to rising investment and restocking, as firms prepare for even stronger demand following the vaccine roll-out.
The picture is blighted, however, by record supply chain disruptions, which will likely be exacerbated further by delays arising from the Suez Canal blockage. Prices are already rising at the fastest rate for a decade as demand outstrips supply, resulting in a sellers' market for many goods.
While the forces driving prices higher appear to be temporary, linked to the initial rebound from COVID19 lockdowns, any further upward pressure on firms' costs and selling prices is unwelcome. Encouragingly, the recent expansion of output means production in the Eurozone is likely to have surpassed its pre-COVID peak, and hiring has already accelerated markedly as producers seek to build additional capacity to meet higher demand."
The Eurozone economy is service-oriented rather than manufacturing (except Germany). And consumer-facing service industry is the prime victim of COVID mitigation protocols. The service PMI is still hovering below 50.0; i.e. in the contraction zone, but also improving amid progress of herd immunity (COVID vaccinations). Flash data shows that in Mar, the Eurozone Service PMI jumped to 48.8 sequentially (m/m) from 45.7 (Feb) and above market expectations of 46.0. Mar'21 contraction is 7th consecutive (since Aug'20) after peaking in July'20. The rate of contraction in the service sector nevertheless moderated to the slowest seen over this period, thanks to spill-over benefits from strong manufacturing growth, a modest easing of virus containment measures, and encouraging prospects for the year ahead.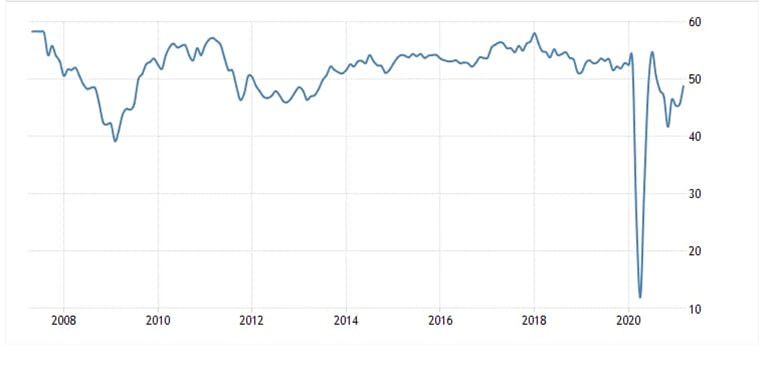 Eurozone Service PMI
As a result of the manufacturing boom and improving the service industry, Markit flash data shows that the Eurozone Composite PMI rose above boom/bust line 50.0 (expansion) after 5-months of contraction (since Oct'20). In Mar, the Eurozone Composite PMI jumped to 52.5 from 48.8 in Feb, well above the market expectations of 49.1.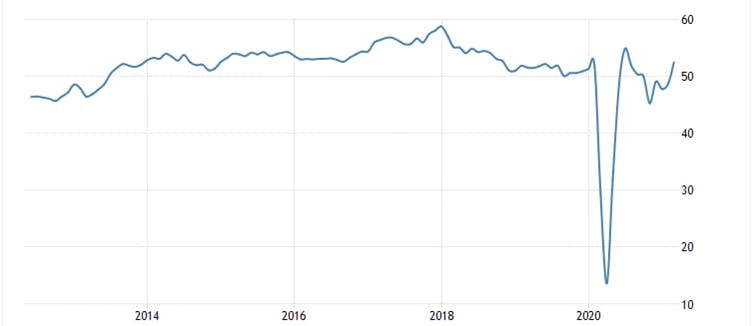 Eurozone Composite PMI
Flash data shows that the Eurozone headline CPI surged to +1.3% in Mar (y/y) from Feb print +0.9%, the highest jump since Jan'20, and right on the market expectations. But the Eurozone core inflation dropped to +0.9% in Mar from +1.1%, which was below market expectations. It seems that Eurozone core inflation was peaked at +1.4% in Jan'21. Before COVID, in 2019, the average Eurozone core inflation was around +1.00%, while headline inflation (CPI) was around +1.2%.
Technical outlook: EURUSD
Technically, whatever may be the narrative, EURUSD has to sustain over 1.16900 for some rebound; otherwise, expect more correction.