Try our free app!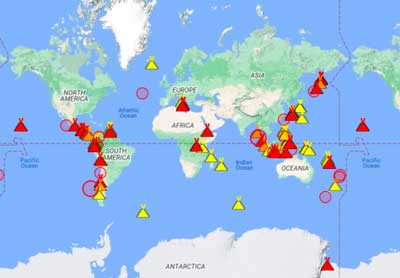 See also: Monthly reports
Tue, 20 Apr 2021, 02:49
02:49 AM | BY: EARTHQUAKEMONITOR
3.7 quake 19 Apr 7:39 pm (GMT -7)
A magnitude 3.7 earthquake near Chico, Butte County, California, USA, was reported only 9 minutes ago by the United States Geological Survey, considered the key international and national agency that monitors seismic activity in the US. The earthquake occurred at a shallow depth of 13 miles beneath the epicenter early evening on Monday 19 April 2021 at 7:39 pm local time. The exact magnitude, epicenter, and depth of the quake might be revised within the next few hours or minutes as seismologists review data and refine their calculations, or as other agencies issue their report.
A second report was later issued by the European-Mediterranean Seismological Centre (EMSC), which listed it as a magnitude 3.7 earthquake as well.
Towns or cities near the epicenter where the quake might have been felt as very weak shaking include Princeton (pop. 300) located 8 miles from the epicenter, Willows (pop. 6,100) 9 miles away, Durham (pop. 5,500) 15 miles away, Chico (pop. 90,300) 18 miles away, Orland (pop. 7,600) 19 miles away, Gridley (pop. 6,600) 21 miles away, Paradise (pop. 26,500) 27 miles away, and Yuba City (pop. 66,900) 34 miles away.
If you felt it, report it through our site or app right now!
Download and Upgrade the Volcanoes & Earthquakes app to get one of the fastest seismic alerts online:
Android | IOS
Earthquake data:
I felt this quake
Date & time: 19 Apr 2021 7:39 pm (GMT -7) local time (20 Apr 2021 02:39 GMT)
Magnitude: 3.7
Depth: 20.8 km
Epicenter latitude / longitude: 39.51°N / 122.03°W
(Glenn County, California, United States)
Primary data source: USGS
Previous news
The European-Mediterranean Seismological Centre (EMSC) reported a magnitude 4.3 quake in Peru near Minas de Marcona, Provincia de Nazca, Ica, only 16 minutes ago. The earthquake hit early evening on Monday 19 April 2021 at 7:17 pm local time at a moderately shallow depth of 37 km. The exact magnitude, epicenter, and depth of the quake might be revised within the next few hours or minutes as seismologists review data and refine their calculations, or as other agencies issue their report. … read all
Summary: 1 quake 6.0+, 9 quakes 5.0+, 35 quakes 4.0+, 130 quakes 3.0+, 266 quakes 2.0+ (441 total) … read all
A very deep magnitude 4.7 earthquake was reported in the morning near Cotabato City, PH.14.B8, Autonomous Region in Muslim Mindanao, Philippines. … read all
We are receiving unverified early reports of seismic activity in or near Weinzierl bei Krems, Lower Austria, Austria on 19 Apr 2021 (GMT) at approximately 23:25. … read all